Acreage Home Floor Plans
The Dream Can Be Yours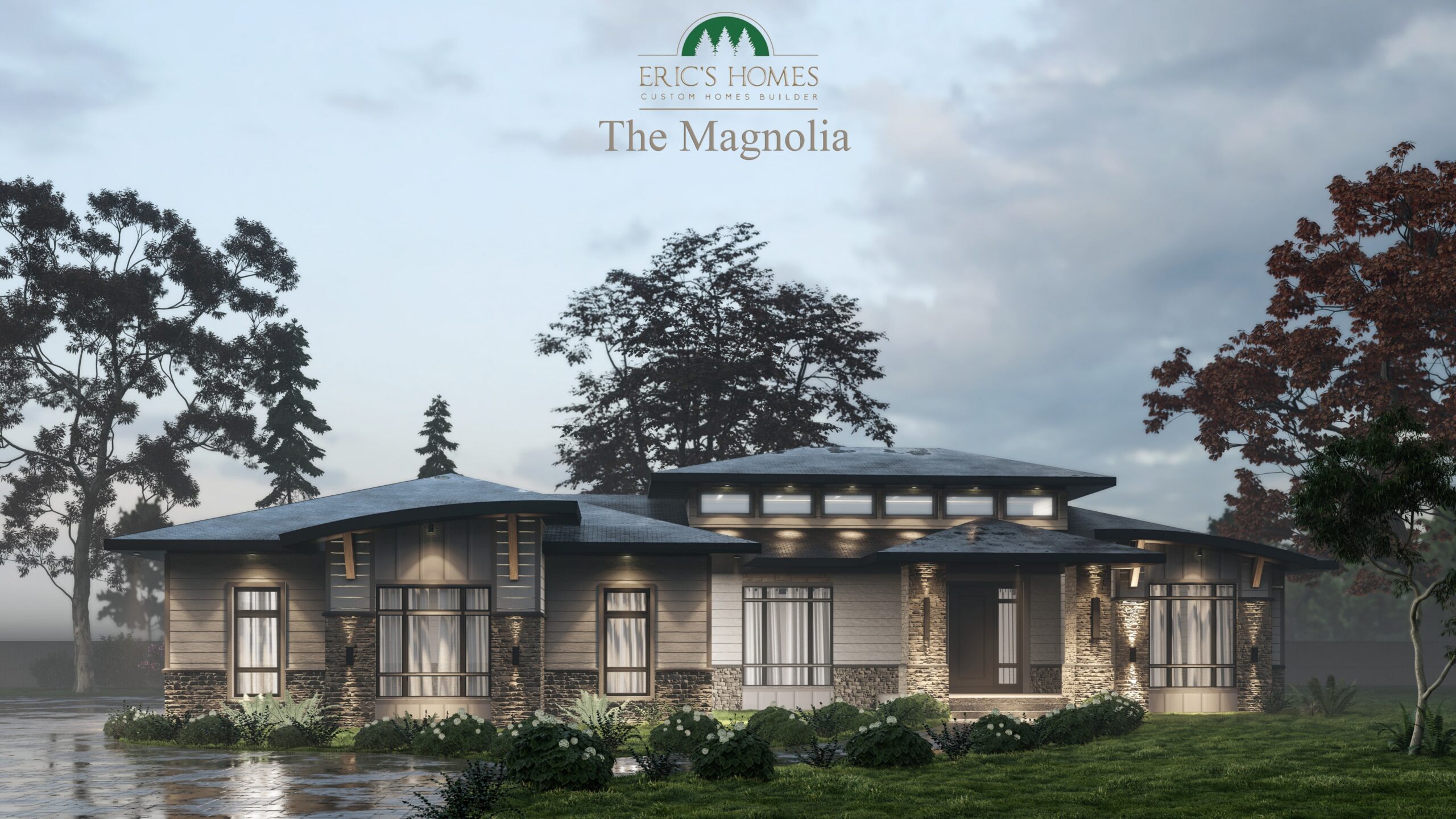 Imagine walking into your dream home where contemporary style meets classic elegance. This stunning new construction home, crafted by Eric's Homes flawlessly merges modern and traditional design elements creating a distinctive and timeless residence that will never go out of style. Step inside and you're greeted with raised ceilings that create an airy and spacious feel. The living room's curved wall adds to the sense of grandeur, making it the perfect space for relaxing and entertaining guests. With breathtaking views and nestled in close proximity to nature this home provides an idyllic retreat for everyone without sacrificing the convenient proximity to amenities. Your home's versatility is unmatched, featuring a home office that can transform into a yoga room, private retreat, or workspace. The open concept plan makes it effortless to entertain guests while cooking in the gourmet kitchen, and the range island provides the perfect stage to showcase your culinary skills or lay out a stunning charcuterie board. When it's time to unwind, head to the luxurious master suite with direct access to the hot tub for a spa-like experience. The ensuite bathroom epitomizes luxury, featuring high-end fixtures and finishes that create a calming and soothing ambiance. This masterpiece is the epitome of form and function, combining timeless elegance and modern convenience in every detail, from the carefully selected materials to the thoughtful layout. Every aspect has been meticulously designed so you can rest assured that no detail has been overlooked. Discover your lifestyle by design in this breathtaking new construction home. Open the front door and step confidently into your lifestyle by design today.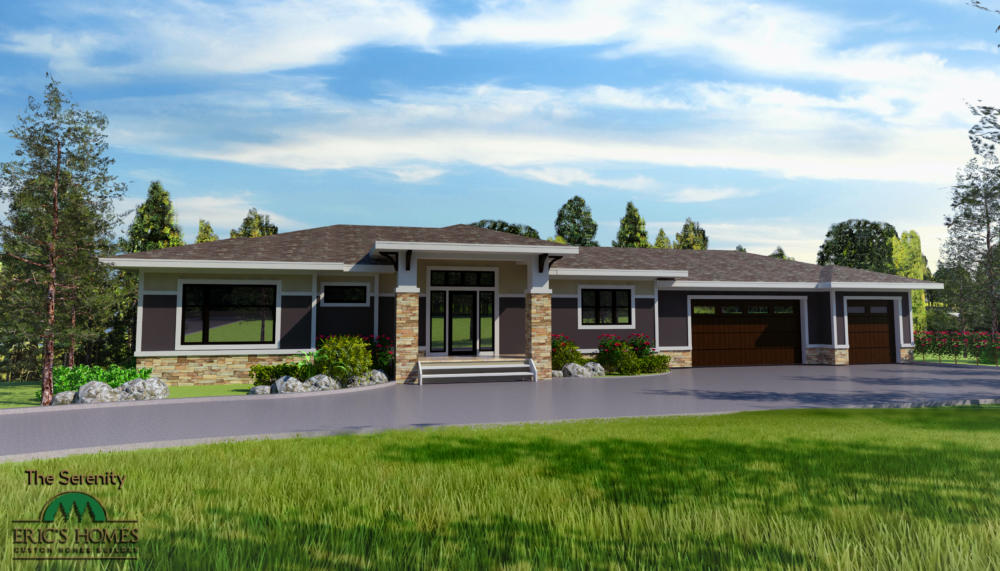 1800 Sq. Ft. Bungalow.
Delightfully charming, The Serenity, is a prairie style bungalow showcasing elegant simplicity with clean lines and an attractive contemporary interior design. Destined to be a favorite, this layout is designed to be cost efficien, and is the product of many updates and feedback from customers on past projects. Offering four bedrooms over two floors, this concept offers just the right amount of space. On the man level, the open plan includes the living area, dining area and kitchen with lovely "L" shaped center island/breakfast bar. A magnificent back deck spans the length of the living area allowing for maximal ease of indoor/outdoor living and generous natural light. The luxurious master boasts a large ensuite bath and access out to the deck. On the basement level, find two bedrooms with Jack-and-Jill bath and a spacious family room with access out to the patio. Also find a wonderfully large utility room perfect to suit all of your storage needs. This home concept in its entirety is no more and no less than perfect. Let's customize and build your dream home!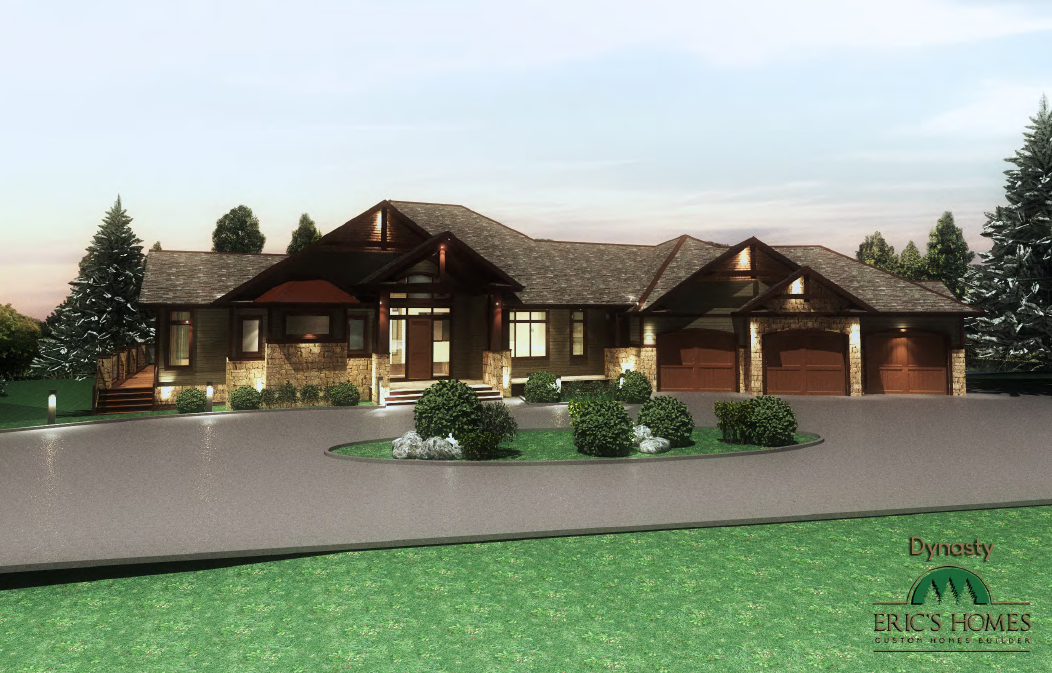 2,344 Sq. Ft. Walkout Bungalow
The Dynasty is named after the street which it is built on, Dynasty Drive in De Winton. The plan was originally conceived for a home which would sit on a high plateau of elevated land with a 360 view of the prairies, the city of Calgary, and the Rocky Mountains. Every component of the house was designed with land orientation in mind. The kitchen and master bedroom, for example, sit on the eastern edge of the house, and thus receive far more exposure to light during sunrise and sunset. The style of this magnificent home has been dubbed as "modern craftsman". Modern craftsman homes combine the timeless craftsman curb-appeal with innovative floor plans and interior furnishing designed for modern country living. The Dynasty comes bursting with luxurious features like vaulted coffered ceilings in the main living area, rustic beams in the kitchen, and imposing stone pillars at every turn. The home comes outfitted with a massive three-car garage as well as an additional detached garage which is ideal to serve as a workshop, man cave, greenhouse or anything else potential owners can fathom. As always with Eric's Homes, this plan can be customized to suit any land, exterior and interior layouts, or design preferences. Let's build your dream with the Dynasty!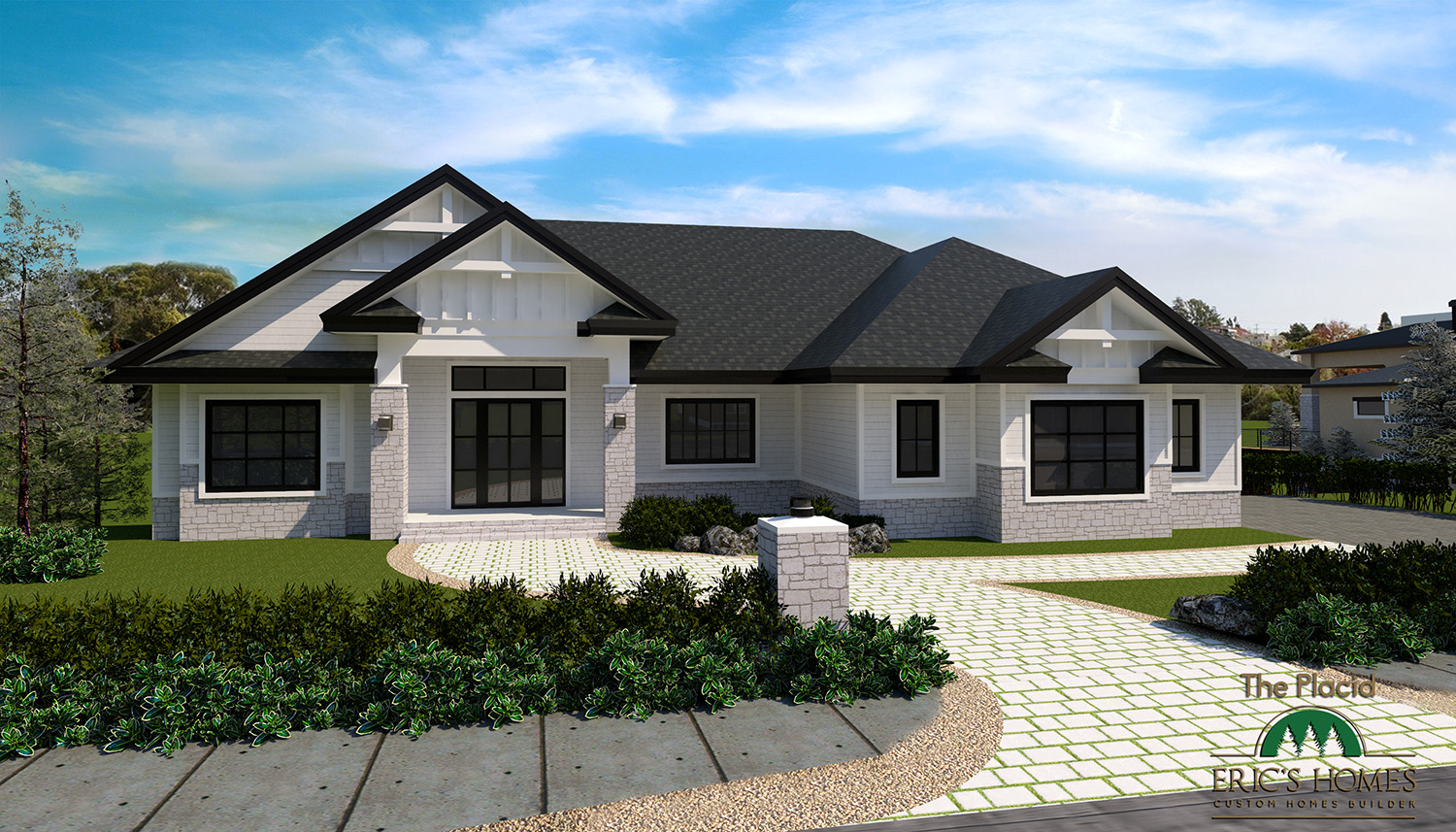 1832 Sq. Ft. Bungalow
Featuring a clean, upscale aesthetic, The Placid is a dynamic floor plan with incredible options for customization.  As first impressions always count, chose from a beautiful modern craftsman or gorgeous prairie style exterior. Inside, delightful, open living spaces are accented by elegant, raised coffered ceilings ensuring your day-to-day not only feels great but looks fabulous as well. The "L" shaped main living includes the kitchen, dining, and family room which surrounds a lovely private deck allowing for abundant natural light and pleasing views. The deck can also be screened-in with a gas heater for multi-season use. Enjoy a large first floor master bedroom with spa style ensuite which sits separate from the other three bedrooms allowing for privacy. Another fantastic area to customize, bonus space on the first floor allows for a home office, additional garage, or man cave. The basement presents excellent additional living space and includes a kitchen, large living area, and two bedrooms. Modify to suit your needs for functionality! This space can feature either a walk-out or regular configuration and include a man cave or suite. The ability to personalize truly makes his floor plan and your future home one-of-a-kind.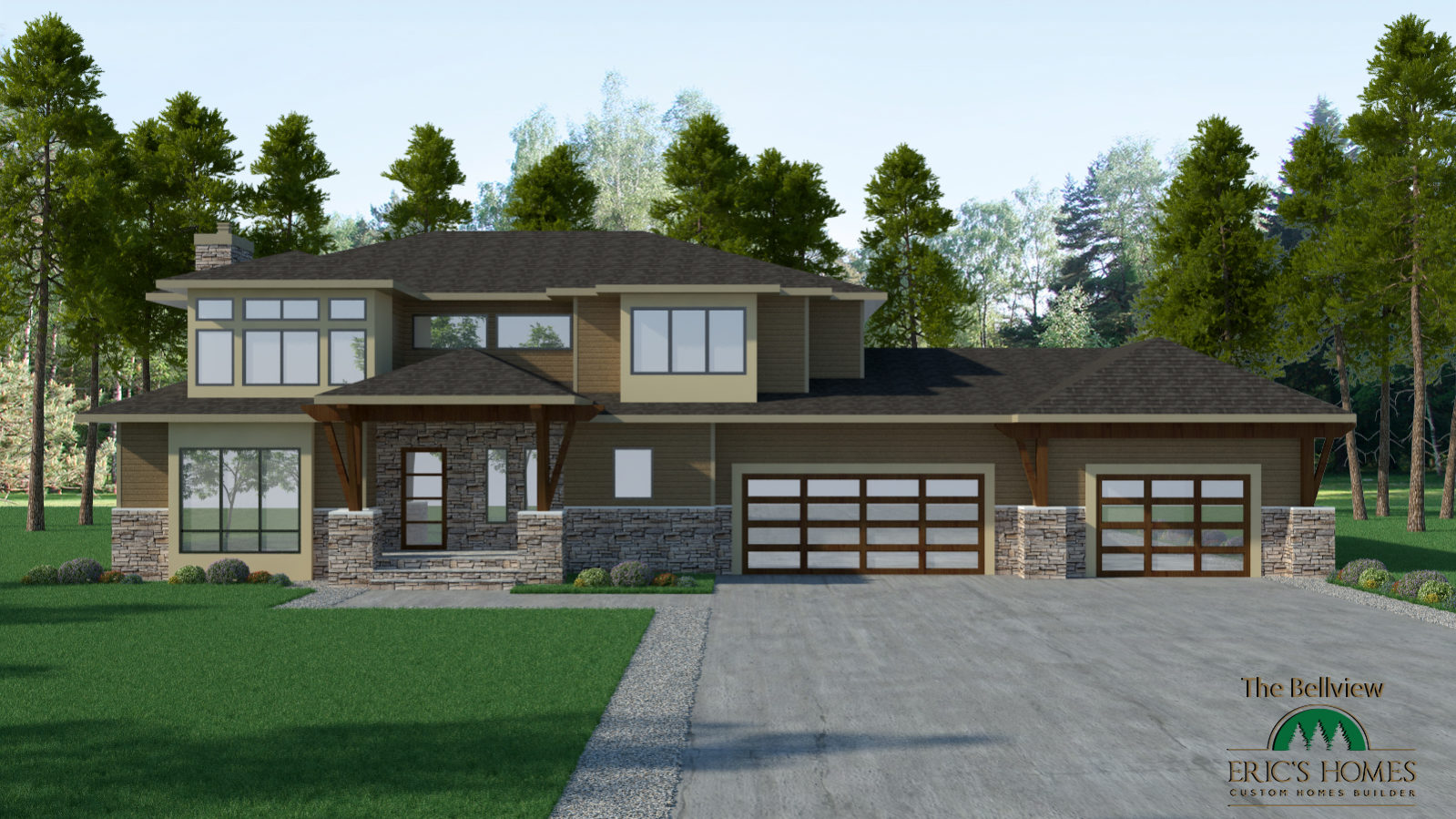 3100 Sq. Ft. 2 Storey
This luxurious, contemporary two-story home is stunning in its size and curb appeal. Inside, a large stone fireplace enhances the great room. The open gourmet kitchen features a massive island with seating room for four and direct access to a fantastic outdoor living area which boasts a second fireplace. A gallery leads to the master bedroom with exclusive access to a deck for you and your significant other to enjoy views of the beautiful Alberta sunsets. Three more bedrooms are found on the second story, each with their own private bathroom. Enjoy the large upper bonus room for endless entertainment options. An optional finished basement will add a multi-use gym and an additional family room to this already extravagant home.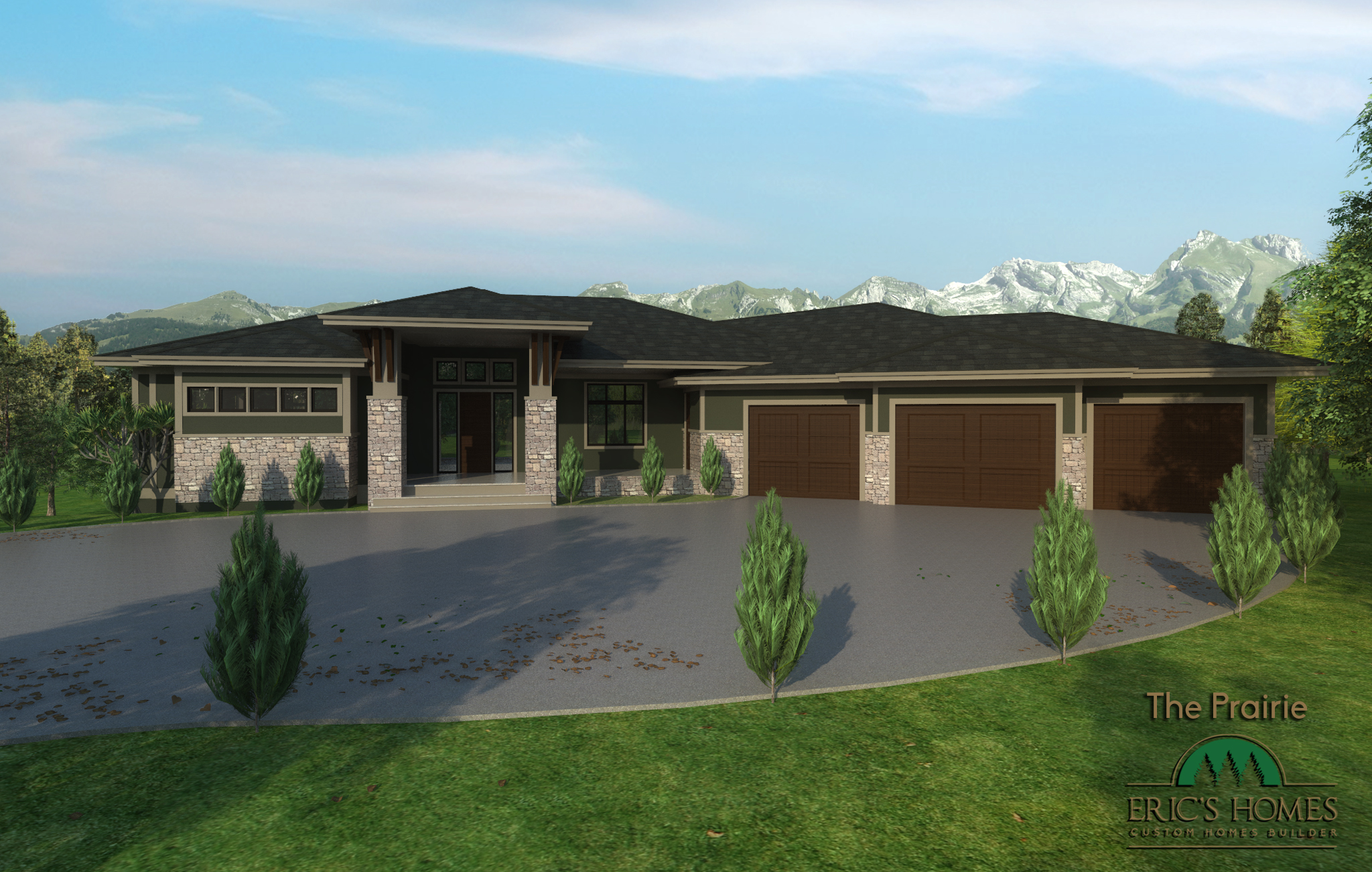 2,100 Sq. Ft. Walkout Bungalow
Carefully planned to capture optimal natural light and to maximize stunning views of the outside landscape, The Prairie is the embodiment of contemporary bliss and modern charm. Ten Foot ceilings grace both the main floor and basement level making each feel quite open and spacious. On the main floor, raised ceilings in both the foyer and dining room add a touch of elegance. The kitchen, with walk in pantry and center island, living, and dining gracefully flow from one to the next—overall an ideal space for relaxing or entertaining. Sip your morning coffee or unwind and simply take in the scenery on the fabulous wrap-around deck just off the main living area. A noteworthy feature of this layout is the very large space located just past the kitchen behind the garage –perfect as a shop, office, man or woman cave. If desired, It can also be converted to a garage. A private and tranquil master suite with deck access and spa style ensuite bath is the only bedroom located on the first floor. An additional flex room completes this floor. On the lower level, find a comfortable family room and convenient exercise room. Two bedrooms share a jack and Jill bath and a large utility space covers all your storage needs. View this beautiful plan in our gorgeous show home located on Dynasty Drive in Dewinton!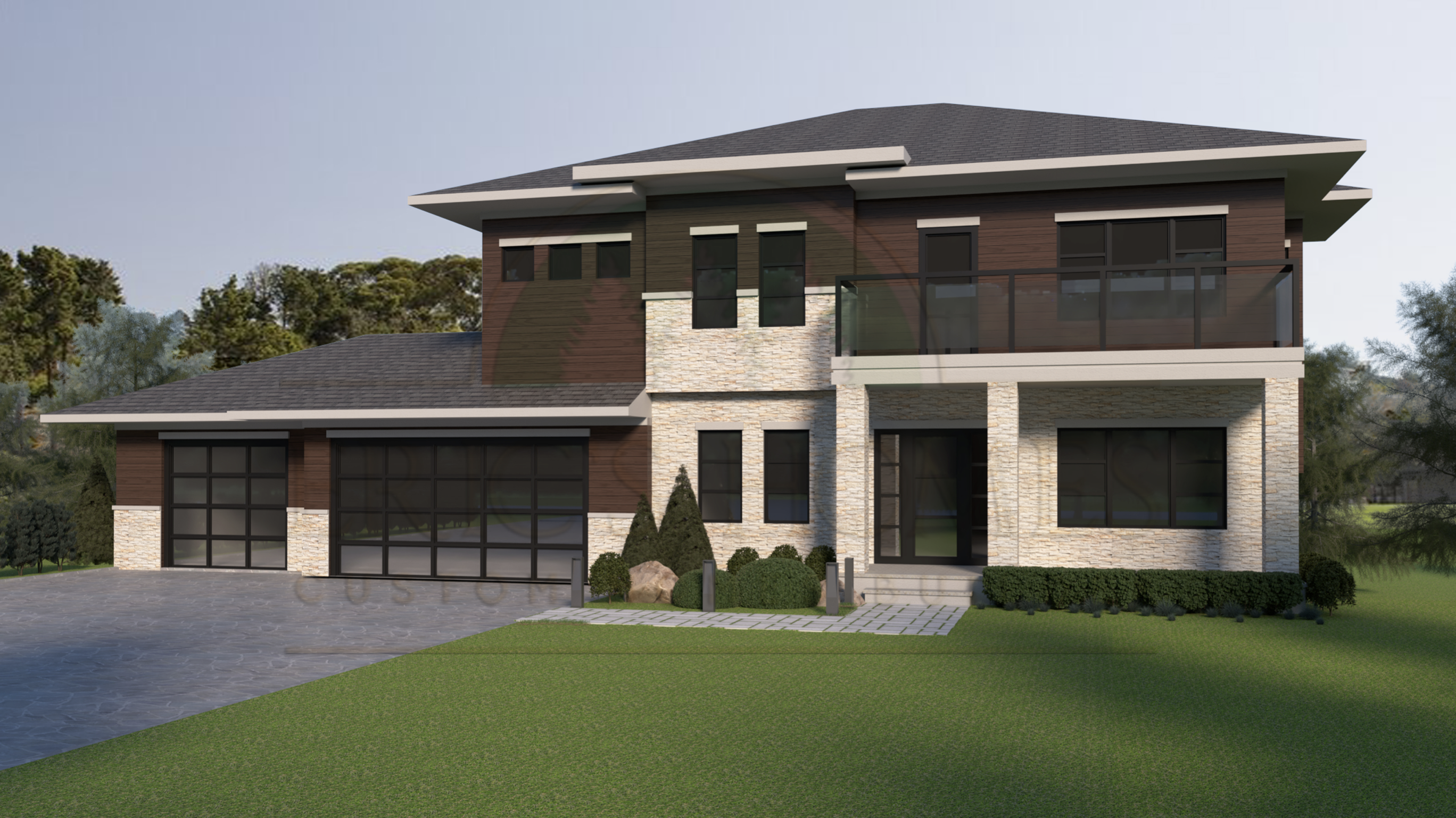 2,920 Sq. Ft. 2 Storey
We analyzed all the feedback from previous clients to create the ultimate contemporary family home. This model is so adaptable — there are multiple flex/bonus rooms that could be utilized for different purposes as your family grows and changes.
The Glade includes an attached 3-car garage + a mudroom that leads to a modern open floorplan with high ceilings and big windows. Your kitchen features a walk-in pantry and a massive center island overlooking the dining nook + great room.
There's a flex room tucked behind the kitchen, and just steps away, a large deck anchors the backyard.
Upstairs, you'll find all the bedrooms, plus the laundry room and another bonus space that includes a front-facing balcony. Down the hall, the master ensuite boasts a W/C, dual sinks and an enormous walk-in closet. Bedrooms 2+3 share a Jack&Jill bathroom, while the loft space could easily be converted into a 4th bedroom.
The Glade gives you room to grow, as there is so much potential in the unfinished basement. You can create an in-law suite, make it into a teenage hangout or just take advantage of all the additional storage space. Let us help you customize this floorplan to fit your family's needs!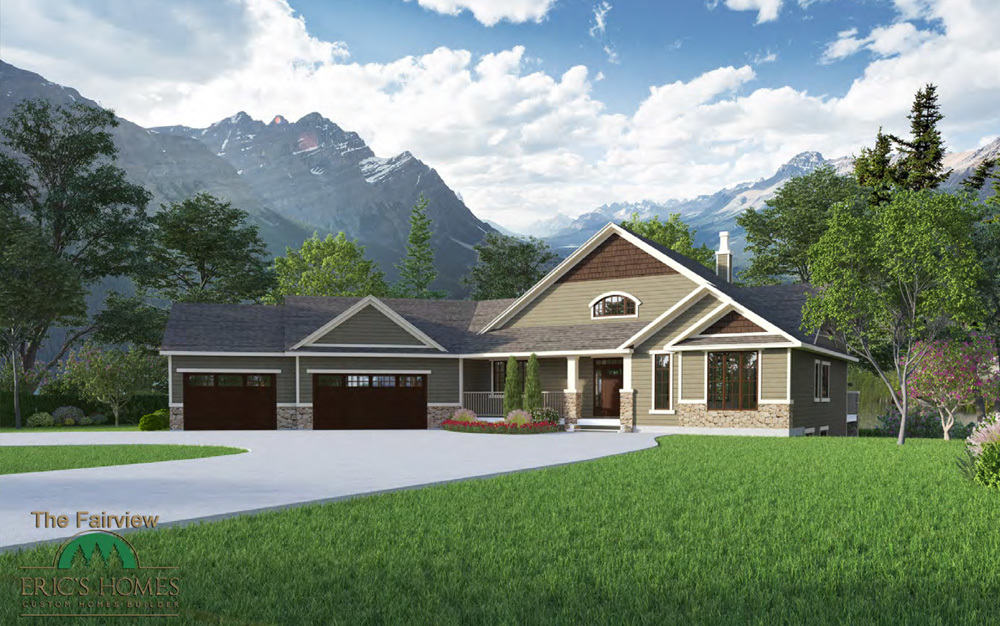 2,000 Sq. Ft. Walkout Bungalow
This floor plan has evolved and improved over the years based on modifications for each of our clients. Signature features of this plan are the impressive soaring vaulted ceilings in the main living area and enormous arched windows.
The full-width deck is also a defining feature of the home, as it grants residents unparalleled views of the nearby mountains, access to the master bedroom and an incredible space to lounge outside in the summer months.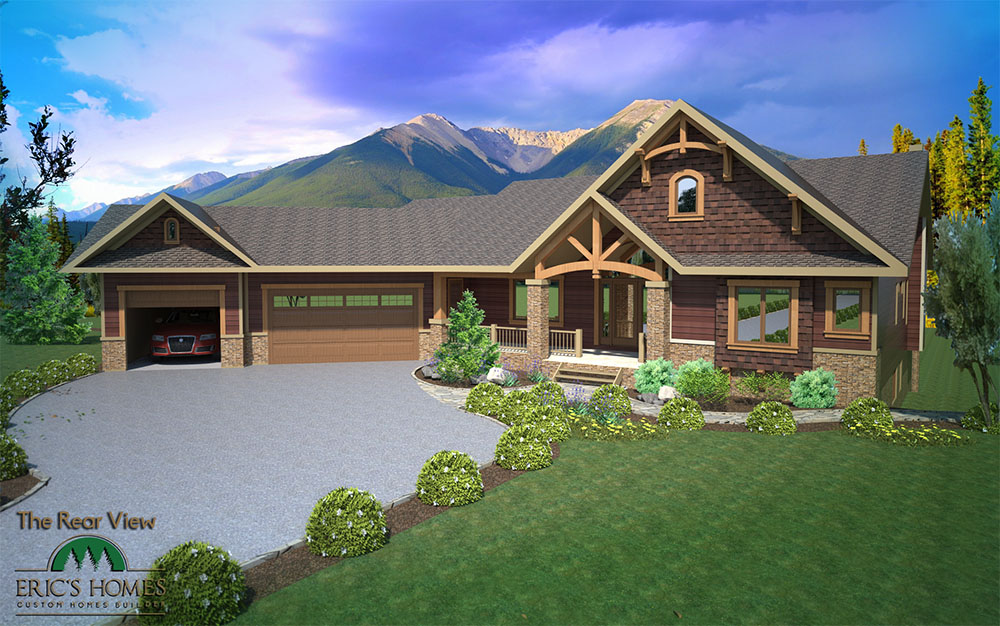 1,900 Sq. Ft. Walkout Bungalow
Aptly named, The Rearview was strategically designed with all main rooms at the back of the home allowing you to take in extraordinary mountain views and breathtaking sunsets while going about the regular tasks of daily life. Additionally, the open floor plan and many large windows combine to create a bright, welcoming atmosphere. Allowing for wonderful ease of use, a thoughtfully placed mudroom conveniently connects the three car garage to the laundry room and kitchen. Also on this floor, find a comfortable master suite featuring a spa style ensuite bath and large walk in closet, as well as a second bedroom. On the lower level, the walk-out basement offers a spacious main room plus additional storage and two potential configurations. Based on your needs, choose either one additional bedroom with a full bath and exercise room, or two bedrooms with a Jack and Jill bath. Dine, relax, and entertain–all with a stunning, picturesque backdrop.
2,625 Sq. Ft. Bungalow
Clean, modern, and contemporary, The Meadows features two bedrooms on the main floor, two on the lower floor, and a bright pleasant atmosphere throughout. Styled with precision and designed with aesthetically pleasing, yet functional spaces, this is a versatile layout planned to enhance your quality of life. The magnificent Great room, with lofty ceilings, charming fireplace, and a huge wall of windows, opens to the dining area and kitchen, which is an ideal configuration for entertaining. The large widows found at the rear of this wonderful space allow generous natural light to flood the room. Take in gorgeous views of the landscape from every angle as you sit, dine, or prepare a meal. The lower level offers access out the to the backyard and great flexibility of use. Entertain or relax in the rec room, featuring a bar and space for billiards. Also find, a huge storage area and gym room. Two bedrooms are on this floor, while the master suite and an additional bedroom are found on the main level to maximize peace and privacy. This gorgeous layout offers beauty you can live in.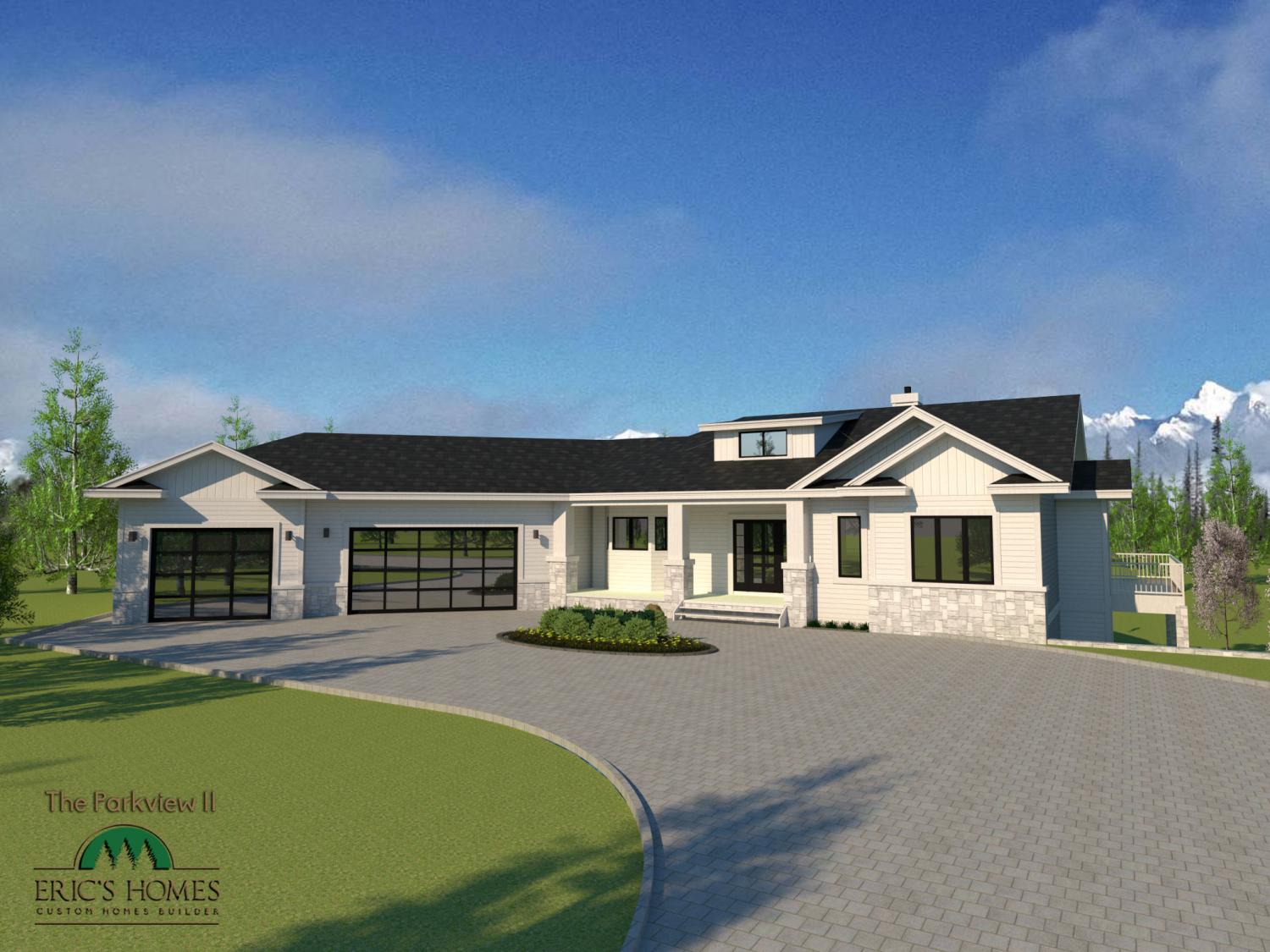 1,900 Sq. Ft. Walkout Bungalow
Beautiful floor plans like the Parkview are created as the result of extensive customization. The client requested a huge open kitchen space, along with front bay windows facing the driveway. The walkout basement was also heavily customized to match the slopping terrain around the property.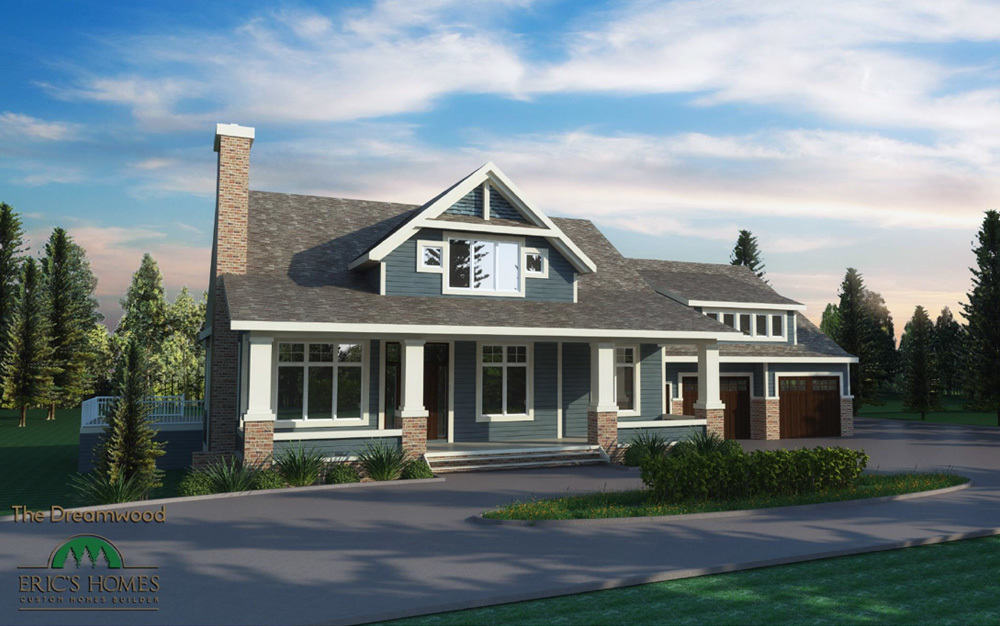 2000 sq. ft. Bungalow
This beautiful home was designed for unique and discerning customers. As a team, Eric's Homes joined forces with interior designers to customize the house's floor plans exclusively for these customers – with no intention to build the exact same home again.
The following illustrations and layouts are examples of what Eric's Homes can do in terms of customization. These should be used as references and examples of past work.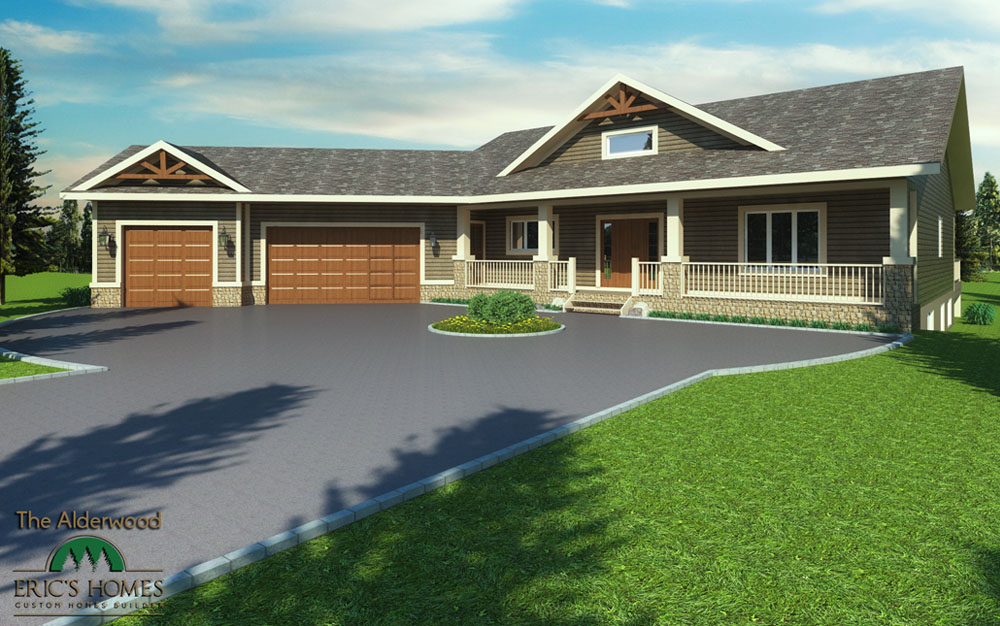 1800 sq. ft. Walkup Bungalow
We call it a "walkup bungalow" to describe a high elevated basement with big windows and an extra stair to give an acces to the back yard from basement. Also used as a rear acces for kids or doggy form living areas on main floor.
Big vaulted ceiling from foyer to living room. Perfect to build on a flat land and cost effective.
This stunning model has been coined a "walk-up" bungalow, a unique designation earned due to this home's highly elevated basement. Outfitted with an additional set of stairs to provide access to the backyard, this one-of-a-kind model is as practical as it is convivial. The unique rear access feature promises to be particularly useful for kids, the dog, and even grown-ups to gain access to the main living areas of the residence. This home also includes truly massive windows in the basement and tall, vaulted ceilings in the foyer and living. With its unique basement configuration, the Alderwood is ideal for those customers looking for a plan that is practical, luxuriously appointed, but also cost-effective and well-suited for all types of land.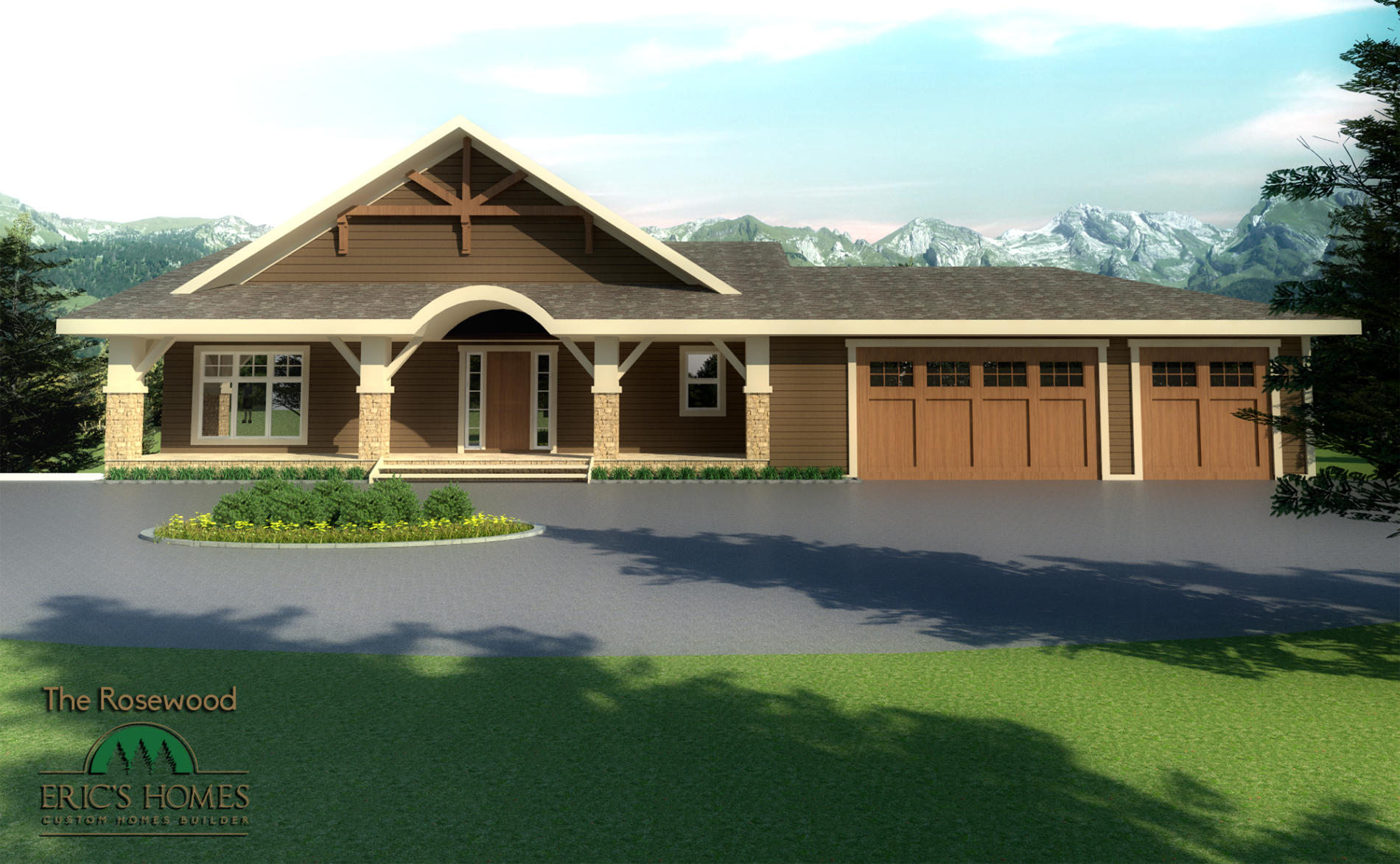 1,600 Sq. Ft. Walkout Bungalow
A smaller cost efficient bungalow but so comfortable with it's open concept. 2 bedrooms on main floor and 2 other bedrooms with a jack and Jill bathroom in lower level. Let's customize it to your needs and taste with a dramatic vaulted ceiling, bigger master suite with a 2 faces gas fireplace or anything else you want. Walkout basement would be a great addition on that beloved home plan.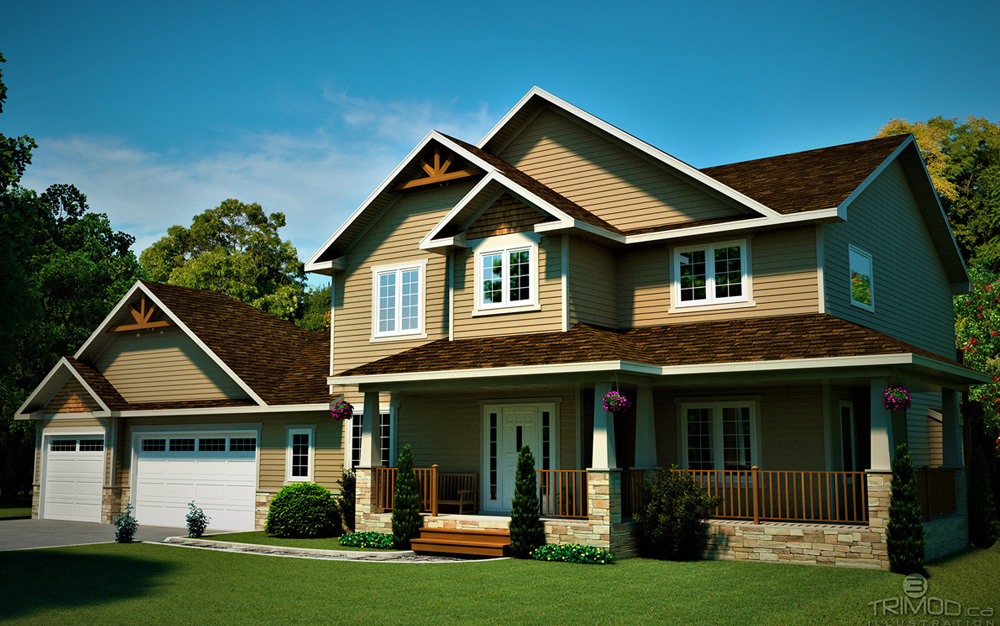 2,800 Sq. Ft. Two Storey House
Floor plans like the Hillcrest don't come around very often. This perfect family house plan is equipped with three large bedrooms and a spacious bonus room on the second floor. The master suite even has its own balcony to enjoy the tremendous surrounding views. An enormous three-car garage ensures residents will never run out of storage space.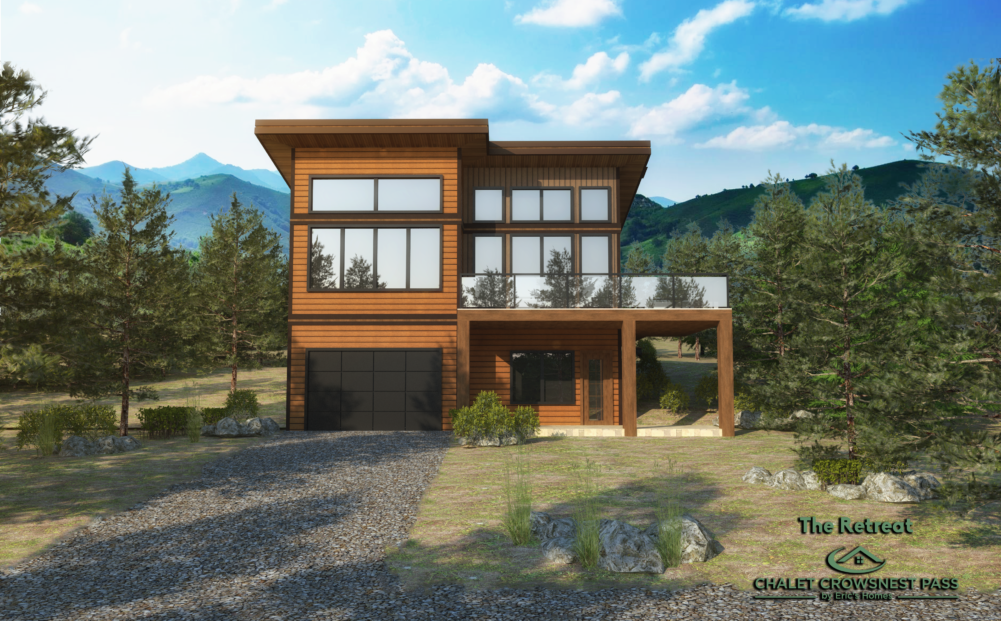 Cozy, quaint, and romantic, we are proud to offer three separate Chalet floor plans featuring versatile spaces for gathering, for relaxing and living. Designed to be perched on an incline, The Retreat and The Hillside feature a spacious great room and open kitchen with a master suite on the main level. Below, a wonderful walkout basement with a garage and additional storage plus a living area and additional bed and bathroom are just the perfect amount of space. The Sunside has an open kitchen and dining area with adjoining living area on the main floor. On the second level find an additional bedroom and beaudior. Each floor plan captures sweeping scenic views and beautiful spaces, suited to meet your every need.